Buy AC Units online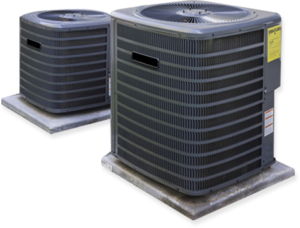 Your home is likely the largest financial investment you'll make in your lifetime, and a big investment within that home's function and comfort is your HVAC unit. Whether you're building or buying your home, the internet offers you unlimited online resources to find just the right home for your budget and wish list so that you can get the best value, right? Well, you should look for a similar value online in buying an air conditioner. You skip the retailer's added cost to go straight to wholesale pricing when you buy your unit from an online air conditioner wholesaler. Did that get your attention? Here's your handy guide to why buying your HVAC unit online through our website is an asset within an asset.
Three Benefits Of Buying Your (HVAC) Air Conditioner Unit Online
1. You Have A Wider Wholesale Selection Of HVAC Units
Retailers often work with a select brand based on their own operating budget, profitability, and installation knowledge. At best, they'll offer you a couple of choices. Worst case is the retailer pushing a specific brand on you because it's all they offer, not because it's your best choice.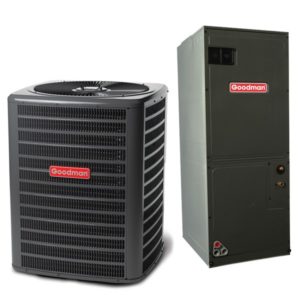 Wholesalers give you access to practically any and all brands within the HVAC industry with trusted and reputable products, including Goodman, Tempstar, and Rheem. By diversifying your selection with online wholesale, you can find the ideal product to perfectly fit your budget and needs.
2. You Enjoy An Easier Buying And Installation Process With Wholesale HVAC
It takes a tremendous amount of time and energy to contact and vet at least three retailers and contractors to find out what HVAC products they offer and get quotes and estimates. Keep in mind that working with a contractor who's not licensed often voids the manufacturer's warranty. Working with a contractor without the proper insurance and bonding poses a liability risk, too. For quality assurance, you'll also want to check the contractor's background and references. It's a lot, right?
Why put yourself through these hoops when you can visit one site with all the information you need about your new HVAC unit and professional installation? You can rest assured that your options for an installation contractor have all been throughly vetted for licensure, bonding, and insurance and have undergone an extensive background check.
3. Wholesale HVAC Offers You Lower Prices
As mentioned above, online wholesalers allow you to skip the costs that retailers add to the price point of HVAC products. You can save hundreds, even thousands, by simply eliminating the middleman from your purchases.
Three Tips For Selecting Your A/C Unit Online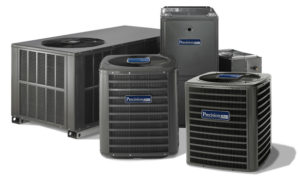 As you can see from the above benefits, shopping for your new AC unit wholesale is the route to take if you want selection, ease, and affordability. Now, here are some tips to make your AC shopping experience go even smoother on our website.
1. What Type Of AC Unit Do You Need?
The first option you'll have is a split unit or package unit. The difference is in how the units are set up. Split systems have separate air handlers and condensers that are connected by refrigeration lines. The inside unit is generally located in a closet or attic. Package units have the condenser and air handler as a single unit that can be mounted outside on the roof or ground. It's a matter of preference, but many homeowners prefer the package units because of their all-in-one compactness.
2. What Type of Heat Source Do You Need?
Once you've decided on the unit's set up, you'll need to select a heat source for it, which is either gas or electric. Gas uses a furnace for the heating system. Electricity units use a reversible refrigeration system to heat and cool your home. They can have either heat strips or heat pumps. Again, this is a matter of personal preference.
3. What Tonnage Unit Do You Need?
AC units are sold as tonnage units, which refers to how much heat an air conditioner can remove from your home per hour. Heat is measured in British thermal units (BTUs.) A 4-ton unit can remove 48,000 BTUs/per hour, a 3-ton can remove 36,000 BTUs/per hour, a 2-ton can remove 24,000 BTUs, and so forth. You'll match the tonnage of the unit with your home's square footage to determine the size unit you need to adequately heat and cool your home.
Wholesale Shopping For The Best Air Conditioning Brands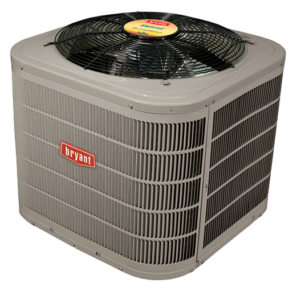 Using a wholesale HVAC website offers you the very best and reliable brands for your HVAC needs. Shop through brands like these four at the best possible price:
1. Goodman
Goodman has a track record for offering some of the best HVAC products in the industry. Their products are constructed with highly durable materials, and the brand focus is energy efficient comfort solutions at an affordable price.
The Goodman line of AC units feature several great models, but the GSXC18/DSXC18 is a real standout. You'll find it has a SEER (seasonal energy efficiency ratio) of up to 18, which is an energy performance rating that can land you huge energy savings over the long-term and a possible tax credit.
A lifetime limited compressor warranty accompanies all Goodman AC units, which means you'll get a replacement if the expensive compressor ever stops working on your unit. Your functional parts will also be covered by Goodman's 10-year parts limited warranty.
Goodman offers reverse air conditioner products in their heat pump line.
Whether you're looking for a 2.5-ton unit for a smaller home or a 5-ton unit to cover a larger square footage, we have a Goodman in stock to meet your needs.
2. Rheem
Rheem is a company with deep roots in the HVAC industry. You might notice that many Rheem units have a lower SEER rating than some of their top competitors. However, Rheem products are actually still quite competitive in the efficiency department, and the company takes great pride in the consumer trust factor they've built over the years.
With proper maintenance, a Rheem air conditioner unit has a solid reputation for reliably and efficiently cooling your home for the next 15 to 20 years.
The Prestige Series RA20 is Rheem's most popular and efficient unit, and it's actually right up there with Carrier's efficiency offerings. Rheem also offers those all-season heat pumps if you're in the market for one of those.
3. Tempstar
Tempstar air conditioners are another brand that's solidified consumer trust with dependable HVAC products. Their brand has an open eye toward innovative comfort home heating and cooling products, too.
The Deluxe 19, for example, is a high-efficiency model with SmartSense TVA9. It can reach up to a 19 SEER rating for those long-term energy savings and a potential tax credit.
One of the coolest, no pun intended, features about the Tempstar brand is it's Observer communication control offering that's available with most of the units in the brand's lineup. It's WiFi capability allows you to connect your mobile devices and computers so that you can remotely control your AC system from anywhere, anytime.
4. Heil
Heil is a brand focused on affordability without sacrificing quality, and it's backed by a plethora of warranty options and over 100 years of quality engineering and manufacturing practices.
You'll find an extensive lineup of HVAC Heil products on our website, including the QuietComfort Deluxe Series with SmartSense HVA9, which offers a 19 SEER rating. Running at a quiet 56 decibels, the Deluxe Air Conditioners are also some of the most audibly non-intrusive models on the market.
Why You Should Keep Your Wholesale AC Unit Running Smoothly With Routine Maintenance
Now that you've learned how to smoothly purchase your wholesale HVAC unit online, it's time to discuss how to keep your AC running smoothly for years to come. Comfortably cooling and heating your home doesn't end at the sale of your new HVAC unit. Once installed, you'll need to pay careful attention to its upkeep and maintenance schedule.
Why do I need HVAC maintenance?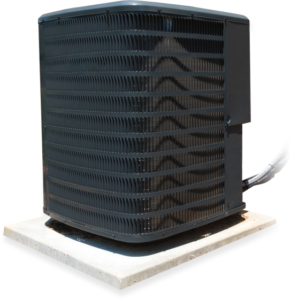 A big mistake that homeowners make with their HVAC units is in placing and forgetting it. As long as it's blowing the desired hot or cold air, it's fine, right? No.
Without adequate maintenance and upkeep, your air conditioner unit suffers. That suffering will translate to your finances suffering both now and later. How? Check out these reasons:
1. HVAC Maintenance Extends The Life Of Your Unit
Premature wear and tear on parts and components shorten the life of your unit. Certain neglects can even void some warranties. Professional maintenance is essential to making the major investment of an air conditioning unit last as long as possible.
2. HVAC Maintenance Ensures Peak Performance
Your neglected unit will also eventually stop performing at its peak level without routine maintenance, which will result in using more energy and raising your electric bill. If you add up the cumulative extra energy a dirty and poorly functioning unit adds to your monthly electric bill over a year, it's likely to far surpass any routine maintenance repairs and new air conditioner costs.
3. HVAC Maintenance Helps Prevent Major Emergency Breakdowns
Have you ever waited for a repairman with a broken down HVAC unit? If so, you know that emergency repairs may result in days to weeks with no way to heat or cool your home. A well-maintained unit is less likely to suffer a major meltdown because problems can be proactively addressed and minor worn and damaged parts don't go unchecked to cause distress to parts that are major repairs.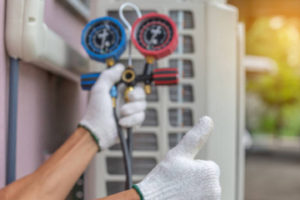 4. HVAC Maintenance Helps Prevent Unhealthy Indoor Air Quality
HVAC maintenance helps prevent your unit from becoming a breeding ground for mold and bacteria. When your unit forces air contaminated with dirt, debris, mold, and bacteria into your home, your indoor air quality takes a nose dive. It can make your family sick and is particularly detrimental to those with existing allergies and asthma.
Tips For Your HVAC Maintenance Plan
Here are some helpful tips and reminders on how to keep your wholesale AC unit working smoothly for you:
1. Keep It Clean
As discussed above dirt and debris make your unit work harder and less efficiently and unnecessarily exposes your home and family to air quality issues.
Keep things nice and clean by periodically checking the air intake for debris. Use the manufacturer's instructions for changing and cleaning inside and outside unit filters. If you have any doubts on the process, call in an HVAC professional at the beginning or end of each season. In either case, it's always best to schedule at least a yearly routine cleaning and checkup with an HVAC professional.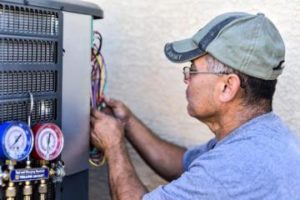 2. Keep Condenser Fins Straight
Condenser fins can bend from age and inadvertent contact, which can inhibit air flow. A fin comb is used to straighten the fins back out. Be sure to turn the power off to the unit before attempting to straighten them yourself. If you schedule routine maintenance and cleaning with a professional HVAC technician, they'll do this for you as part of their services.
3. Set Up A Routine Maintenance Schedule With A Professional
While you can do basic DIY cleaning and sorting for your HVAC unit, there are certain maintenance tasks that can only be done by a certified HVAC technician. So, whether or not you choose DIY for filters and cleaning, you'll still need a periodic professional maintenance schedule for tasks like:
Leak detection for refrigerant.
Adding the correct amount and type of refrigerant.
Checking ducts for A/C water leakages and sealing.
Evaporator coil inspection to measure airflow.
Electrical terminal inspection to ensure connections are clean and tight.
Belt inspections for wear and tear and replacement.
Motor inspection and oiling.
Condenser coil inspection and cleaning.
Flushing the condensate drain line.
In closing, your air conditioner is a significant investment that adds value, comfort, and function to your home. It's a buying and installation process that should be as comprehensive as it is easy. Unlike retail HVAC sales, our online wholesale HVAC offers you those exact qualities. You'll find selection, ease, quality, cost-efficiency, and built-in installation vetting all in one easy to navigate site. Afterwards, your only task will be giving your new HVAC unit the care and attention it needs to remain an invaluable asset for the many years to follow.